Tacoma, Washington – Fuzhou, China
Fuzhou, China and Tacoma, Washington share a 25-year-old relationship including delegation exchanges, student exchanges, and Dragon Boat races. Now, we see another way they strengthen their relationship – the exchange of medical supplies. While Fuzhou, China was having difficulties in obtaining specific medical supplies and equipment due to the outbreak, they reached out to their sister city, Tacoma, Washington. Tacoma put their efforts into raising $1,200 to help China in the outbreak and fought through their own obstacles of the lack of masks and eventually gathered 15,000 masks. Fuzhou, China returned the favor by sending 70,000 surgical masks, 500 gowns, and 20,000 pairs of gloves. However, that wasn't all. Weeks later, the City of Tacoma received 70,000 more surgical masks from their sister city and more gloves and clothing to help provide for their city's staff.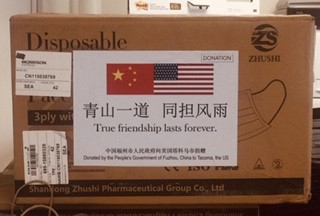 SCI is proud to see sister cities taking part in exchanges to help each others' communities!
---