St. Louis – Stuttgart Sister Cities Current Projects
St. Louis, Missouri and Stuttgart Sister Cities from Germany have joined together to create projects that would further connect both their communities. Read about the most recent project below.
The Green Beret Youth Initiative was founded honoring MSG Micheal B. Riley, to empower kids to make a change in their lives and communities in St. Louis.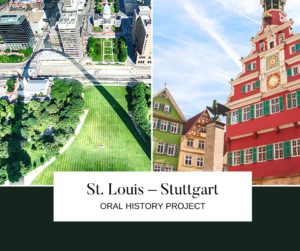 The program advocates for three main pillars: Exercise & Nutrition, Academic Enhancement, and Mentoring. These pillars are in place to create an ultimate impact within the communities. Participants of the program range from children, adolescents, to young adults from the ages of 11 to 17 years old and vary from diverse social and cultural backgrounds.
As a start-up organization, the Green Beret Youth Initiative wants to establish long lasting and meaningful partnerships. They wants to bundle strengths and orientations from partnerships in order to make a substantial difference for our youth and communities.
In the current situation of partially closed schools, parents often out of work, and the generally tense political situation in the USA, it is even more important to them to offer young people a safe environment, meaningful projects and opportunities for further development.
The next steps for the organization to take action on are the following:
Expand the team of volunteers and reach of children
Establish vendor programs (Ex. After school programs)
Move to our own location with the support of their partner Special Forces Foundation
Enhance their close relationship with Stuttgart Germany through Virtual Workouts & Midterm Exchange Programs
Establish Summer Programs (2022): Outdoor camps for at risk youth, DJ Camp, Music & Arts,…
"R3 Respect – Reliable – Responsible: these are the values we practice and preach, and we would love to live those values in successful partnerships with you to serve our youth in St. Louis."
www.greenberetyouthinitiative.org
Email: [email protected]
---