Miami Beach Sister Cities Program Reactivated
This past summer, the City of Miami Beach transferred the Sister Cities Program leadership to the Miami Beach Chamber of Commerce. It was formerly led by the Office of the Mayor.
European resort Cascais in Portugal has become Miami Beach's 13th Sister City.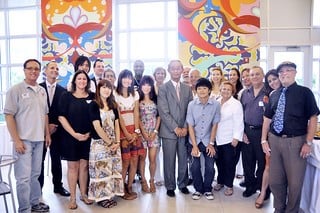 Miami Beach and Cascais have similarities in that they have become a "playground for the rich and famous", and both known as vacation destinations. The City of Cascais has a population of 210,500 people and is part of a 16-Sister City network, including the Brazilian City of Salvador Bahia, Gaza under Palestinian Authority, Biarritz of France, and Wuxi, China.
They seek to encourage the development of economic, cultural, and education links, along with any student exchange programs with the City of Cascais.
Miami Beach started their first program in 1959 with the Japanese city of Fujisawa, which remains one of their most active Sister Cities. They regularly hold social functions with the Consulate representatives of their Sister Cities of Basel, Fujisawa, Brampton, and Asmara. The Miami Beach Sister Cities hold annual International Artist Showcases, conduct Student Exchanges with Japanese students, and have seen a developmental impact in their own culture, economy, city, and parks.
Miami Beach hopes that members and others in the community encourage citizen diplomacy, cultural exchanges, and economic partnerships in their own cities to discover new cultures and partnerships.
---