Hot Springs, AR Sister City Program to be Featured with Local Library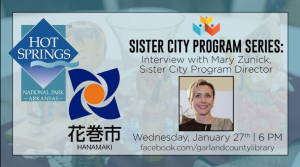 Garland County Library is always such a fantastic community partner for Hot Springs Sister City Program and so many other local organizations. Paul Kagebein, the library's Adult Services Programmer has recently started virtual programming on Facebook that highlights organizations and individuals. The Hot Springs Sister City program will begin a series of programs available on the Garland County Library Facebook Page the last Wednesday of each month beginning January 27, 2021 at 6pm. Here is a link https://fb.me/e/1RP8EltYW
The first virtual program will cover the early days of the relationship, beginning in the early 1990's. There will be two special guests for the January 27 program, former Hot Springs Mayor Melinda Baran and, from Hanamaki, Ryuji Sato. Sato is the current chair of the Hanamaki – Hot Springs Friendship organization in Hanamaki, but worked for the City of Hanamaki's International Relations Office in the early days of the sister city program.
The sister city relationship between Hot Springs and Hanamaki, Japan, officially began on January 15, 1993, after a group of Hanamaki residents combed the United States and found Hot Springs to be a perfect fit. Since then, many friendships, greater understanding, and mutual respect have grown out of the steady cultural, educational, and artistic exchanges between cities. Future programs presented in conjunction with the library will feature highlights from the past 27 years, student and adult exchange participants, and even virtual cultural exchange opportunities.
If you would like to ask a question in advance, please email Paul Kagebein at [email protected]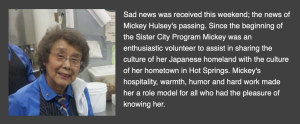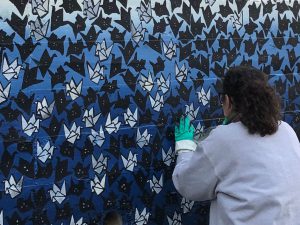 If you have driven by Jonestown Park on the corner of Hobson and Rector, you have probably seen several local artists hard at work creating a beautiful new mural. The mural theme "Together We Are Reaching For A Better Community For All" is headed up by Roxi Rose and sponsored by the City of Hot Springs Parks and Trails Department.
City Director Erin Holiday has created the segment of this mural inspired by Japanese Culture. Her design features 1,000 cranes painstakingly created in a multi-step stencil process. Director Holiday was selected by the Hot Springs Sister City Foundation to represent Hot Springs in an artist exchange as part of the Sister City 25th Anniversary in 2018.
There will be more photos to come as the mural is completed. Thank you Director Holiday, it's going to be beautiful.
---