Fort Worth, TX – Sister Cities Brings Amnesty International Message
Forth Worth Sister Cities International will be discussing citizen diplomacy and human rights in an upcoming webinar. Read Fort Worth's message on their efforts to advocate for international relationships below:
Citizen Diplomacy and Human Rights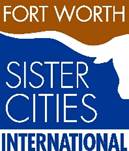 FORT WORTH, TEXAS (June 4, 2021)
Fort Worth Sister Cities International brings international attention to Fort Worth with its nine sister cities in China, Eswatini, France, Germany, Hungary, Indonesia, Italy, Japan, and Mexico since 1985. This month, Fort Worth Sister Cities International will bring Roger Mark de Souza, the Chief Movement Building Officer of Amnesty International, to Fort Worth as part of the International Speakers Series launched earlier this year. De Souza will discuss Citizen Diplomacy and Human Rights: How does Amnesty International fit in?
The International Speaker's Series: Global Perspectives was launched in March to provide global connections and educational programs as part of Fort Worth Sister Cities' vision to establish a center for international relations for Fort Worth. "For more than three decades, we have boosted the local economy and deepened intercultural competence, the results of which are unmistakably felt at home and abroad", said Chair-elect of the board of directors, Greg Jackson. The webinar is being offered to the community free of charge on June 8 from 2:00 to 3:00 pm. It is free but a registration is required by clicking here.
"In an increasingly divided world, Sister Cities brings individuals, cultures and countries together for the benefit of all," said Becky Renfro Borbolla, Board Chairman. "While international travel is limited, that doesn't mean global relationship building can't continue. We are still producing effective global education, creating intercultural competence, and there's more work to be done."
Funding and in-kind support from the City of Fort Worth (4% of Sister Cities' budget) play a key role in its mission, but most of its work is made possible through public support. For more information about Fort Worth Sister Cities visit www.fwsistercities.org

---