Baltimore Sister Cities Organizes "Our Home Too" Event in Support for AAPI Communities
OUR HOME TOO
A forum in support for Asian American and Pacific Islander (AAPI) Communities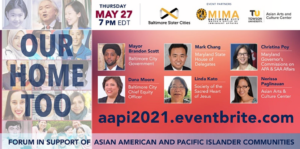 Date: Thursday, May 27th, 2021
Time: 7:00-8:30pm EDT
Format: Zoom webinar
Admission: Free (advance registration required)
More info & to register: aapi2021.eventbrite.com
May is Asian Pacific American Heritage Month (APAHM), which honors the history and achievements of our Asian American Pacific Islander (AAPI) communities.
Unfortunately, this year's celebrations are marred by increasing rates of targeted violence against AAPI individuals during the COVID-19 pandemic. These actions are rooted in our nation's history of periodic exclusion, discrimination, racism, and xenophobia which have long been juxtaposed with the vitality, promise, and mutual benefit endowed by our diversity of backgrounds and experiences.
Please join Baltimore Sister Cities and their partners in solidarity, community and celebration as they honor the invaluable contributions of AAPI communities in Baltimore and Maryland. During this panel discussion, they will explore what AAPI heritage means to all of us. How have AAPI communities contributed to Baltimore and American history? What are AAPI communities currently doing to contribute to culture, the arts, activism, and public service in our region? What new directions are they calling for?
Speakers:
Mayor Brandon M. Scott — Mayor of Baltimore City
Linda Yuriko Kato, RSCJ, Ph.D. — Senior Consultant for Society of the Sacred Heart – U.S. Canada Province
Christina Wong Poy — Administrative Director, Maryland Governor's Commissions on Asian Pacific American Affairs and South Asian American Affairs
Mark S. Chang — Delegate for District 32 Anne Arundel County, Maryland State House of Delegates
Dana Petersen Moore — Baltimore City Chief Equity Officer and Director of Baltimore's Office of Equity and Civil Rights
Nerissa Paglinauan — Program Manager, Asian Arts & Culture Center at Towson University
Moderator: Teresa Leslie from Baltimore Sister Cities
Event partners:
Baltimore Sister Cities (BSC)
This webinar is organized by Baltimore Sister Cities in honor of its Asian sister city committees (Changwon, South Korea; Kawasaki, Japan; Xiamen, China).
Baltimore City Mayor's Office of Immigrant Affairs (MIMA)
Asian Arts & Culture Center at Towson University (AA&CC)
---