Wunderbar Together: Addressing Global Challenges Locally through the San Antonio-Darmstadt Partnership
As part of its partnership with Wunderbar Together, Sister Cities conducted an interview with Martha Henry and Ian Cruz at the City of San Antonio International Relations Office. San Antonio had been recognized at the 2019 Houston Sister Cities Annual Conference as the "Best Overall Sister Cities Program," a well-deserved award considering both the scope and depth of San Antonio's partnership with Darmstadt, one of its eleven sister cities. The interview below depicts numerous dimensions to the San Antonio-Darmstadt relationship, including collaboration in government, transit, business, music, climate resilience, academic exchange, professional exchange, and more, framing them in the context of addressing US-German and global challenges at the local level.
For the latest updates on the City of San Antonio International Relations Office:
SCI: Describe the partnership, programs, and exchanges between San Antonio and Darmstadt. How do such activities continue to address global challenges on a local scale?
San Antonio and Darmstadt have maintained a very active relationship since signing a Friendship City agreement in 2016, which progressed into a Sister City agreement in 2017. San Antonio visited Darmstadt for
the Sister City signing and brought a delegation of community leaders involved in government, education, business, and the arts. During the visit, the San Antonio delegates met with several organizations and companies in Darmstadt to establish connections and discuss future potential collaborations. A notable moment in the visit was a dedication ceremony where Darmstadt named a local tram "San Antonio," adding it to their fleet of Sister City-themed trams running through the city.
In 2018, Darmstadt sent a well-known saxophonist to San Antonio to participate in the unprecedented cultural exchange – the International Sister Cities Jazz Ensemble (featuring one participant from almost every one of San Antonio's Sister Cities) with a specially commissioned piece. The Musical Bridges Around the World concert was at capacity and was a wild success.
At the beginning of 2019, a local non-profit media source in San Antonio, the Rivard Report, brought Valerie Eiseler, a journalist student in Darmstadt, to San Antonio as an intern. The Lord Mayor of Darmstadt was incredibly supportive of the exchange and promoted her participation.
In February 2019, The Honorary Jochen Partsch, Lord Mayor of Darmstadt, led a 28-member trade and civic mission to San Antonio to follow up on the connections made in 2017 during San Antonio's visit. In addition to a packed schedule, the delegates interacted with 75 local organizations and close to 200 local individuals. The 46 community events, meetings, roundtables, and site visits highlighted San Antonio's strengths in economic development, cybersecurity, tech startups, immigration, arts and culture, and youth engagement. Delegation participants met with Mayor Ron Nirenberg and various City Council members, toured Southwest Research Institute and Rackspace, and participated in CPS Energy's Inaugural City of the Future Summit. The delegation also toured schools including the University of Texas at San Antonio, Texas A&M San Antonio, St. Phillips's College, the University of the Incarnate Word, and CAST Tech High School.
In April 2019, San Antonio brought over one chef, Frank Schylla, and one assistant chef, Andreas Schlechta, from Darmstadt to participate in the city's "City of Gastronomy" program. San Antonio was designated a UNESCO City of Gastronomy, which is part of the Creative Cities Network, in 2017. Schylla and Schlechta prepared the regional Hesse dish of green sauce, potatoes and eggs. People enjoyed trying the dish and were surprised to learn German food is not solely bratwurst. There are some strong connections to Germany and German heritage in and around the San Antonio area, and this enhanced the interest in hosting a chef with traditional German cuisine experience. Schylla and Schlechta also were able to meet with Claus Heide, the president of the Beethoven Maennerchor. The Beethoven Maennerchor serves to preserve German song, music, and language and is the one of the oldest German singing societies in Texas.
During a study abroad program in July and August of 2019, students from the University of Texas at San Antonio visited Darmstadt, toured the European Space Agency, learned about education abroad at the Technical University of Darmstadt and were guests of a reception hosted by the Foundation. Exchanges and programs through higher educational institutions broaden students' minds and levels of cultural awareness. Additionally during the summer, Summer of Service San Antonio (SOS), an organization encouraging middle and high school students to travel abroad in a service-learning capacity, took a group of 31 high school students to Darmstadt as Citizen Ambassadors. SOS was able to expose students to a variety of activities including culinary, art, cultural, architectural and historical highlights.
Southwest Research Institute, headquartered in San Antonio, is one of the oldest and largest independent, nonprofit, applied research and development (R&D) organizations in the US. They have been engaged with activities in Darmstadt, including a joint project on the Rosetta project, the space probe built by the European Space Agency, based in Darmstadt, since well before the two cities became sister cities. Additionally, a delegation from the organization will be visiting Darmstadt in October 2019 to meet and tour similarly focused organizations to further transatlantic cooperation.
Blue Star Contemporary, a non-profit contemporary art space, is collaborating with Darmstadt artists and historians to host a San Antonio artist every quarter, in Darmstadt.  San Antonio has also hosted various Darmstadt artists over the past several years.  Darmstadt has, in addition, invited graffiti artists to participate in their Lincoln Wall Graffiti Jam.
The CEO of the Magik (Children's) Theatre, Frank Villani, will be traveling from San Antonio to meet with Sven Rasch, from Netzwerk ROPE, in Darmstadt in December of 2019. The two will meet to discuss a joint production of the Living Libraries project.
In order to adapt to a globalizing world and ensure open-mindedness as cultures clash, international relationships like the San Antonio-Darmstadt one are essential.
All of the exchanges, partnerships, and programs between San Antonio and Darmstadt are addressing global challenges at the local level. First, transatlantic relations are strengthening due to the work at the local levels of Darmstadt and San Antonio. Without the collaboration and Sister City agreement, the U.S.-German relationship would not be able to grow at the rate it has. In order to adapt to a globalizing world and ensure open-mindedness as cultures clash, international relationships like the San Antonio-Darmstadt one are essential. Citizens in both cities are learning more about one another's city, country, language, culture, and ultimately, way of life. As relations progress and prosper, we will continue to see more interconnectedness between not only our cities but also the world at large.
SCI: Describe the exchange where a youth delegation visited Darmstadt to perform in its International Youth Orchestra. How do these exchanges help to shape and strengthen Americans' connection to Germany?
The youth delegation that participated in Darmstadt's International Youth Orchestra was a perfect example of using arts, music and culture as a form of diplomacy and global citizenship. These exchanges help educate people, particularly the youth, to life outside of the U.S.
Delegations can experience first-hand how so many aspects of life where they live are not the same in other parts of the world. More specifically, for strengthening the American connection to Germany, exchanges allow participants to develop an appreciation for German culture and language, and to meet fellow peers. Having the opportunity to speak to peers, particularly for youth, is influential as it shapes their acceptance. As more and more Americans become familiar with Germany and German culture, it enhances the likelihood of joint collaboration in their future endeavors.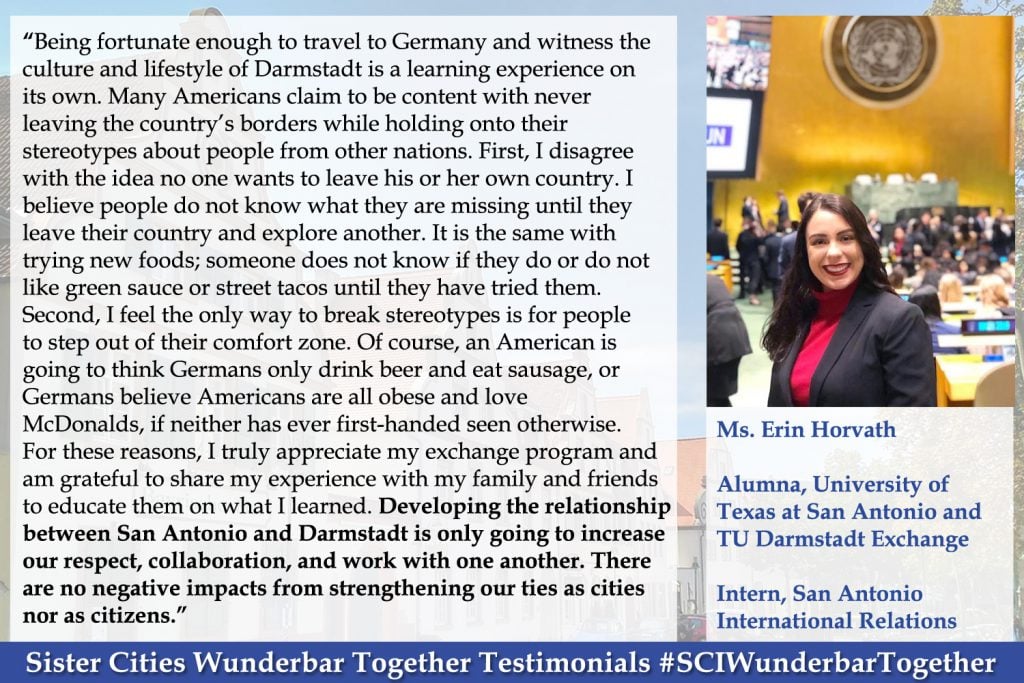 SCI: Is there a particular lesson or experience showing the purpose of these exchanges, including any lasting friendships or formed ties?
Most, if not all, of the exchanges resulted in either lessons learned, lasting friendships, or the formation of relationships. At the municipal level, as more delegations travel to San Antonio and Darmstadt, relationships and partnerships develop. City governments will collaborate in hosting joint cultural events, businesses will strengthen their transatlantic economic ties, and the flow of ideas will grow as dialogue flourishes at the local level.
A particularly important relationship that has been forged is between the University of Texas at San Antonio and the Technical University of Darmstadt.  Both cities have exceptionally strong cybersecurity assets and the universities are internationally known for their cybersecurity programs.  The presidents of these institutions have signed a joint Memorandum of Understanding for cooperation in multiple fields, including cybersecurity, and are visiting each other's campus to better understand how collaboration can be fostered at all levels.  A high-level UTSA delegation will be traveling to Darmstadt later this month.
At a social level, each person an individual meets with and spends time with increases their awareness of American and German culture, respectively. When delegations of chefs or musicians interact with their peers, they are not only learning alternative methods to cook or new songs to play, but are strengthening their international friendships. As for lessons learned, exchanges develop these at a personal level. For example, stereotypes about one another's culture and lifestyle can break and a new appreciation for German architecture or American food can come about. There are so many things to learn and grow from the exchanges between San Antonio and Darmstadt, and many more will come as the relationship develops between the two cities.
SCI: How does citizen diplomacy and information exchange, facilitated through this partnership, build mutual respect, understanding and cooperation?
Once the citizens of both cities increase exchanges, dialogue, and cultural awareness, we will all establish greater mutual respect, understanding and cooperation for one another.
As the citizens of San Antonio and Darmstadt continue to learn about one another through the Sister City relationship, even with our differences, they will appreciate the mixture of culture, language and history. Without consistent and fluid discussion, we will not be able to learn how to respect and understand one another. Through information exchange, we will be able to learn about and from one another, while with citizen diplomacy we will be able to gain a first-hand experience into American and German life. Once the citizens of both cities increase exchanges, dialogue, and cultural awareness, we will all establish greater mutual respect, understanding and cooperation for one another.
SCI: How have San Antonio and Darmstadt collaborated in order to strengthen climate resilience (if applicable)?
Both San Antonio and Darmstadt are strong supporters of sustainability, climate resilience and environmental rights. One of the issues Mayor Nirenberg and Lord Mayor Partsch discussed during the negotiation stages of their Sister City agreement was climate change. San Antonio and Darmstadt are actively working to combat the negative effects of climate change by incorporating more sustainable methods into their municipal operations. Organizations such as Merck KGaA in Darmstadt and the Southwest Research Institute in San Antonio focus on the research and development of science and technology. Their joint efforts and collaboration can help develop the shared work on climate resilience between the cities. Universities including TU Darmstadt and the University of Texas at San Antonio also conduct research on environmental issues and promote environmentally sustainable measures throughout their campuses.
SCI: Are you celebrating Wunderbar Together (the year of German-American friendship), and if so, how?
Philina Wittke, Head of the TU Darmstadt North American Liaison Office, helped San Antonio celebrate Wunderbar Together through her science workshop for high school students during her visit to San Antonio in May. Philina held a workshop at a local high school and conducted experiments with water She also led a seminar to discuss the usefulness of German for potential careers. She was able to collaborate with a teacher at the high school, Ms. Susanne De Jong, who is a sponsor of the German National Honor Society and the German Club. Philina's workshop focused on the idea of Wunderbar Together and aimed to bring American students together around the idea of Germany. In addition to the workshop, Philina was able to meet with University of Texas at San Antonio officials and discuss with a professor in the Department of Political Science and Geography, Dr. Matthias Hofferberth, about his summer study abroad program visit to Darmstadt.
This blog post forms part of Sister Cities' "Wunderbar Together" series, part of our ongoing involvement in "Wunderbar Together," funded by the German Federal Foreign Office, implemented by the Goethe-Institut, and supported by the Federation of German Industries (BDI). This year, we are showcasing stories that highlight the impact of German-American exchange on the local level, as well as the heritage, interests, and common values shared by the United States and Germany. To submit your own experience with German-American exchange or involvement in a German-American sister city partnership, please fill out our form here.
---