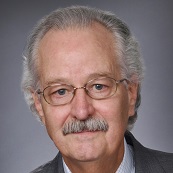 Rick A. Ruth- Senior Advisor & Principal Deputy Assistant Secretary
Rick Ruth serves as Senior Advisor to the Assistant Secretary.  In this capacity, he advises on all aspects of international exchange policy, programs, and management.
Prior to joining the Foreign Service, Rick taught Russian language and literature at the University of Arizona.  He joined the Government as a Russian-speaking staff member on a traveling exhibition in the Soviet Union, and subsequently served abroad in Jordan, Saudi Arabia and the Soviet Union.
Rick organized the office of the Under Secretary of State for Public Diplomacy and Public Affairs and served as its first Chief of Staff.  In the aftermath of 9/11, he was the public diplomacy representative on the steering committee responsible for coordinating the Department's response to the attack.
Rick established the Department's first global alumni network, spearheaded cultural heritage as a key component of foreign policy, pioneered the quantitative measurement of exchange programs, originated the first high school exchange for the Arab and Muslim world, and implemented historic reforms in the regulation and oversight of private sector exchanges.
Rick has received numerous awards, including the Presidential Rank Award, Edward R. Murrow Award for Excellence in Public Diplomacy, and Alumnus of the Year Award from the University of Arizona.