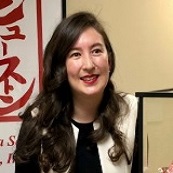 Patsy Brown-Executive Director of the Japan-America Society of Houston
Patsy Brown is the Executive Director of the Japan-America Society of Houston (JASH). She joined JASH in late 2013, following a long experience with Japan in the public, private and not-for-profit sectors.
Patsy's interest in Japan was heightened during her time working as an intern for the United States Information Agency, where she communicated with various embassies, including the U.S. Embassy in Japan, on procurement and personal service contracts.
Her first actual encounter with Japan came through a college program connecting the sister cities of Fort Worth and Nagaoka City in Niigata Prefecture and led to her accepting a position on the Japanese government's Japan Exchange and Teaching Program, also known as JET. Following JET, Patsy pursued formal Japanese language studies at Sophia University, and upon completion of a certificate program, she chose to utilize her language skills in the legal realm working for Japan's leading international law firm.
She transitioned into not-for-profit work after earning an M.A. in Arts Management at Keio University, where she collaborated with leaders in Japan's art community on projects that included developing digital strategies for museums, the Yokohama Triennale, the Tokyo International Art Fair and more.