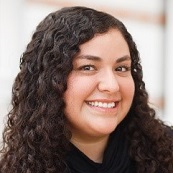 Pamela L. Cruz – Research Analyst for Rice University Baker Institute Mexico Center
Pamela Lizette Cruz served as a Peace Corps volunteer in Mali, West Africa, where she worked as a water sanitation extension agent.The Peace Corps is a volunteer program run by the United States government. Its official mission is to provide social and economic development abroad through technical assistance, while promoting mutual understanding between Americans and populations served. For more than five decades, Peace Corps Volunteers in 141 countries have demonstrated ingenuity, creativity, and grit to solve critical challenges alongside community leaders. In the field Peace Corps Volunteers focus on the following areas: fighting HIV/AIDS, fighting hunger, protecting the environment and improving access to technology.
Cruz also served as the research analyst for Rice University's Baker Institute Mexico Center. She works with the director and affiliated scholars to carry out research on Mexico's policy issues and U.S.-Mexico relations Cruz holds a master's degree in political science from The University of Texas at El Paso.