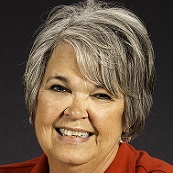 Mary C. Johnson- St. Charles Sister Cities
Mary retired from the American Red Cross, is married, and Mom to a 22 year-old son, Eric; she volunteers full time with St Charles Sister Cities and was just re-elected to her third term as chapter president.
During the last three years, the organization has looked for new fundraisers to support the highly successful youth exchange program, which has exchanged over 3,000 students since its inception, by expanding the home-stay exchanges and other cultural projects. In 2018 the chapter held their first Trivia Night and Midwest Maifest.  In 2019 Midwest Maifest sold nearly three times the amount of tickets as the previous year.  The student exchange program grew by 50%, the first growth in a decade.
In 2016, 2018 and 2019, collectively, St. Charles-Ludwigsburg Sister Cities hosted 89 adults from our sister city; the Philharmonic Choir, a VIP delegation, and Zither Club. Mary and the SCSCA will be traveling to Germany in 2020 to celebrate our 25th anniversary and Citizen Diplomacy.