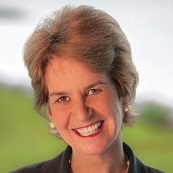 Kathleen Kennedy Townsend
Kathleen Kennedy Townsend is Director, Retirement Security at the Economic Policy Institute. She Founded the Center for Retirement Security at Georgetown University where she is a Research Professor. She has served with distinction in both the private and public arenas.   She was Maryland's first woman Lt Governor, and served as Deputy Assistant Attorney General of the United States. Prior to serving at the Department of Justice, Ms. Townsend led the fight to make Maryland the first—and only—state to make service a high school graduation requirement. She has been a Managing Director of Rock Creek the largest women owned asset management firm, with states, foundation, unions and corporate pension funds for clients.
She has been appointed Special Advisor at the Department of State. She is a Woodrow Wilson Fellow, has taught foreign policy at the University of Pennsylvania and the University of Maryland and has been a visiting Fellow at the Kennedy School of Government at Harvard.  In the mid-1980s, she founded the Robert F. Kennedy Human Rights Award. She Chaired the Institute of Human Virology founded by Dr. Robert Gallo, which treats over 700,000 patients in Africa as part of the PEPFAR program, has chaired the Robert Kennedy Memorial and has been on the Board of Directors of the John F. Kennedy Library Foundation.
She has served on a number of boards including the Export-Import Bank, Johns Hopkins School of Advanced International Studies (SAIS), the Wilderness Society, the Points of Light Foundation, the National Catholic Reporter and the Institute for Women's Policy Research, the Baltimore Urban League the Center for American Progress, Lightbridge Corporation  and New Tower Trust. Ms. Townsend is also a member of the Council of Foreign Relations and the Inter-American Dialogue. She is the Vice-Chair of the Future of Science conference held in Venice Italy.
An honors graduate of Harvard University, Ms. Townsend received her law degree from the University of New Mexico where she was a member of the law review. She has received fourteen honorary degrees. Ms. Townsend's book, Failing America's Faithful: How Today's Churches Mixed God with Politics and Lost Their Way has been published by Warner Books in March 2007.