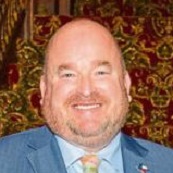 Jeffrey Blair – Director Europe, Middle East, Africa for Greater Houston Partnership
Jeffrey Blair started with the Partnership in July 2013 having moved from The Hague in The Netherlands. He is responsible for attraction of new businesses, as well as facilitating trade contacts from the EMEA region (Europe, Middle East and Africa) and maintaining relationships with key government officials and business associations in the EMEA region. Before joining the Partnership he advised local, regional, and national economic development agencies on how to attract more international companies thru his economic development consultancy based in The Hague. In addition to this he also acted in commercial functions for Bosch and Deloitte as well as non-profit organizations such as the European Association for Science and Technology Transfer Managers (ASTP) where he was Business Development and Strategic Advisor to the Board of Directors.
Mr. Blair was the Project Manager for the Houston Global Cities Initiative that produced a Metro Export Plan in April 2016 and is now working on a Metro Foreign Direct Investment Plan for the Greater Houston metro area that will be published later in 2017. The Global Cities Initiative is program run by the Brookings Institute and funded by JP Morgan Chase Bank. 28 metros were selected to be a part of this program.
Before going into business for himself he worked for several economic development agencies in The Netherlands and was posted as Southeast Area Director for the Netherlands Foreign Investment Agency (NFIA) to the Dutch Consulate in New York City. There he facilitated foreign direct investment to The Netherlands in an area reaching from New York to Florida. Before starting a career in economic development he worked for the State Department based out of the U.S. Embassy in The Netherlands and served several years abroad in the U.S. Army.