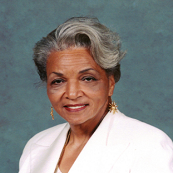 Cynthia S. Perry – Diplomat, Educator, and Businesswoman
Cynthia Shepard Perry is a distinguished diplomat, educator, and businesswoman who served the United States for many years.  A native of Indiana, Dr. Perry was appointed as the US Ambassador to Sierra Leone by President Ronald Reagan; as the Ambassador to Burundi by President George H.W. Bush; and as the United States Executive Director of the African Development Bank by President George W. Bush.
Back home in Houston, she served as the Honorary Consul General for Senegal, followed by the same position for Rwanda.  It is difficult to find an African country that has not been touched by her efforts.
Ambassador Perry earned degrees in political science and foreign language from Indiana State University and an EdD in International Education from U/Mass.
Among the positions during her long career are Staff Development Officer at the UN Economic Commission for Africa in Ethiopia and Associate Professor at Texas Southern University.   She and her late husband, Dr. James O. Perry, trained Peace Corps volunteers for Africa.
An accomplished artist, she continues her passion for painting in oils, primarily portraits and African landscapes.  Ambassador Perry's memoir, entitled "All Things Being Equal" was first published in 2001. She is currently publishing a coffee table book on her art that will be available soon.