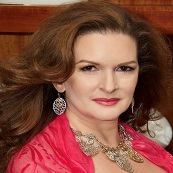 Cristal Montañéz Baylor – Board Member Sister Cities of Houston
Cristal Montañéz Baylor is a humanitarian global citizen and philanthropist with years of experience in citizen diplomacy in some of the world 's most controversial countries. Her work promotes international relations and understanding among people of different beliefs and cultures and different sectors of society as she works with leaders from around the world. As a former Miss Venezuela, Cristal is committed to her country. Her work as a human freedom and pro-democracy activist is highlighted at the Freedom Collection at the George W. Bush Presidential Center.
She is a member of the Rotary e-Club of Houston International Service Committee and International Coordinator of the Hope For Venezuelan Refugees a project created in response to the humanitarian crisis affecting thousands of Venezuelan refugees, migrants and 'walkers caminantes' in Cúcuta and Pamplona, Colombia. The project received the "Humanitarian Service Project of the Year Award 2018-19" at the Rotary District 5890 Conference for helping alleviate hunger and promote peace.
Cristal serves on the Board of Director of Sister Cities of Houston, and the Executive Committee of the Houston-Karachi Sister City Association.
Cristal is married to George Baylor and has two children. She loves spending time with her three grandchildren.