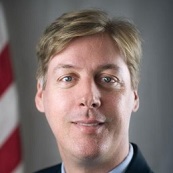 Andrew K. Sherr – Consulate General of the United States of America in Guayaquil, Ecuador
Andrew K. Sherr is the Consul General at the Consulate General of the United States in Guayaquil, Ecuador as of August 2017. Mr. Sherr has 17 years of experience as a career U.S. government diplomat. Most recently he served as the Management Counselor at the U.S. Embassy in Caracas, Venezuela. He has also served in Colombia, Paraguay, Brazil, Honduras, and The Gambia. At the U.S. Department of State in Washington, D.C. he served as Special Assistant to the Under Secretary of State for Management Affairs.
Mr. Sherr received his Masters of Science degree in National Resource Strategy from the Dwight D. Eisenhower School for National Security and Resource Strategy in Washington, D.C. He completed his undergraduate degree from Bates College in Lewiston, Maine. He is a native of Denver, Colorado, and is married with two daughters.