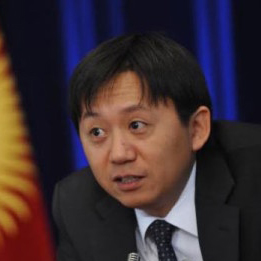 His Excellency Kadyr M. Toktogulov – Ambassador of Kyrgyzstan to the United States
Kadyr M. Toktogulov, born April 28, 1980 in Osh, Kyrgyzstan. Kyrgyzstan's President Almazbek Atambaev on December 31, 2014 appointed him as Ambassador Extraordinary and Plenipotentiary of the Kyrgyz Republic to the United States of America. Mr. Toktogulov presented the Credentials to the United States President Barack Obama on February 23, 2015.
On February 24, 2016, Kadyr Toktogulov was appointed by President Almazbek Atambaev as Ambassador Extraordinary and Plenipotentiary of the Kyrgyz Republic to Canada with residence in Washington DC, USA. He presented his Credentials to the Governor General of Canada David Johnston on March 22, 2016.
Prior to his appointment as Ambassador, Mr. Toktogulov served as Press secretary to Kyrgyz Republic's President Almazbek Atambaev, starting from December 2011.
Before joining the Office of the President, Kadyr Toktogulov worked as chief of information policy department at the Office of the Prime Minister of Kyrgyzstan. He was in charge of coordinating media relations for the Prime Minister, his deputies and key ministries of the government. He also coordinated media coverage of the work of the government of the Kyrgyz Republic.
Ambassador Kadyr Toktogulov has vast experience in journalism. He worked as a correspondent for such news organizations as the Associated Press (2003-2006) and Dow Jones Newswires and contributed stories to the Wall Street Journal (2006-2011).
He holds a BA degree in Journalism and Mass Communications from the American University of Central Asia (Bishkek, Kyrgyzstan). He studied as an exchange student at Ankara University, Ankara, Turkey, in 1998-1999 and at Ithaca College, NY, 2001-2002.
In addition to Kyrgyz, he fluently speaks Russian, English and Turkish.
Ambassador Toktogulov will be speaking at the Panel Discussion with Diplomats on Saturday, August 4 at 8:00 am.