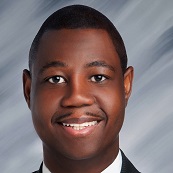 Dr. Alix Desulme – Councilman, District 4 City of North Miami Beach
Alix Desulme was elected to the North Miami City Council representing District 4 in 2015, the following year became the youngest Councilman to serve as Vice-Mayor for the city of North Miami and won his bid for re-election in 2019.  His initiatives in public office have included creating the first Chinatown designation in Florida, Let's Eat Healthy in District 4 and the citywide Golden Silver Senior Program.
Councilman Desulme is an Adjunct professor at St. Thomas University in Miami Gardens, Florida and an Educational Consultant for ELB Global an Interactive Education Technology Solution provider based in California. Recently, Councilman Desulme has completed coursework at the University of New England and in August 2018 earned a doctoral degree in Educational Leadership focused on Transformative Leadership.