Texas Winter Storm Relief Efforts
Houston Karachi Sister City Association Coordinated Pakistani Community Organizations Collaborative "Texas Winter Storm Relief Efforts" distributed food, blankets & water to 1000 families in Houston.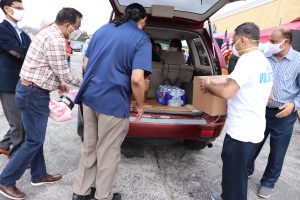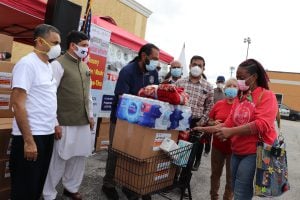 Houston Texas: In response of brutal winter storms which have battered the entire City of Houston and forced millions of people to search for the basics for survival food, water and shelter from record cold, the Pakistani American organizations launched a Community Collaborative called, "Texas Storm Relief Efforts". The collaborative is coordinated by the Houston Karachi Sister City Association with the objective to serve their fellow Houstonians.
Congressman Al Green, Consul General Abrar Hashmi of Pakistan and volunteers served over 1000 families with food, grocery, blankets, water and PPE at a Distribution Drive-Thru on February 27, 2021 at the Pakistan Center.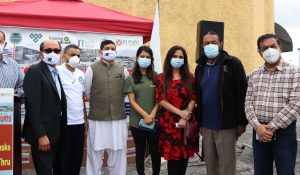 While speaking at the Media Briefing, Congressman Al Green acknowledged the Pakistani Community Organizations Collaborative efforts as an alliance. He also lauded that in disastrous times such as Hurricane Harvey & Katrina, COVID-19 pandemic, and now a winter storm, the group, "Texas Winter Storm Relief Efforts" is in the forefront. Consul General of Pakistan, Mr. Abrar Hashmi, also paid tribute to organizers and appreciated them for keeping up the Pakistani traditions of Generosity & Volunteerism. Coordinator of the Texas Storm Relief Efforts & President of Houston Karachi Sister City Association, Mr. Muhammad Saeed Sheikh, President PAGH Mr. Haroon Sheikh, Beena Sheikh President, Appna Alliance, and Director of Alliance for Disaster Relief Dr. Yakoob Sheikh also spoke on the occasion. Acknowledged and appreciated of the tireless coordination are the following: Mian Nazeer, Mahmood Ahmed, Maria Usmani, Nusrat Laghari, Ilyas Choudry, Shenaila Naseem, Farah Khan, Rehman Patel, Sami Khaleeq, Mohammad Saleem and many others.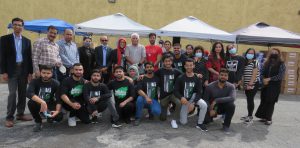 The effort were united by the Community Collaborative of Congressman Al-Green, Consulate General of Pakistan-Houston, Alliance for Disaster Relief, Appna-Alliance, Houston Food Bank, Houston Karachi Sister City Association, Ibn Sina Foundation, Pakistan Association of Greater Houston, and Rupani Foundation.
The members of the organizing committee thank the supporters, especially Mr. S. Javaid Anwar, Houston Food Bank, and Texas Jasmine and appreciate the dedicated volunteers of His Highness the Aga Khan Council for Southwestern United States, Pakistan Student Association- UH, Helping Hand USA and respected members of community media.
---