Hurricane Dorian, Just Another Unavoidable Disaster? Can Community Members Make a Difference?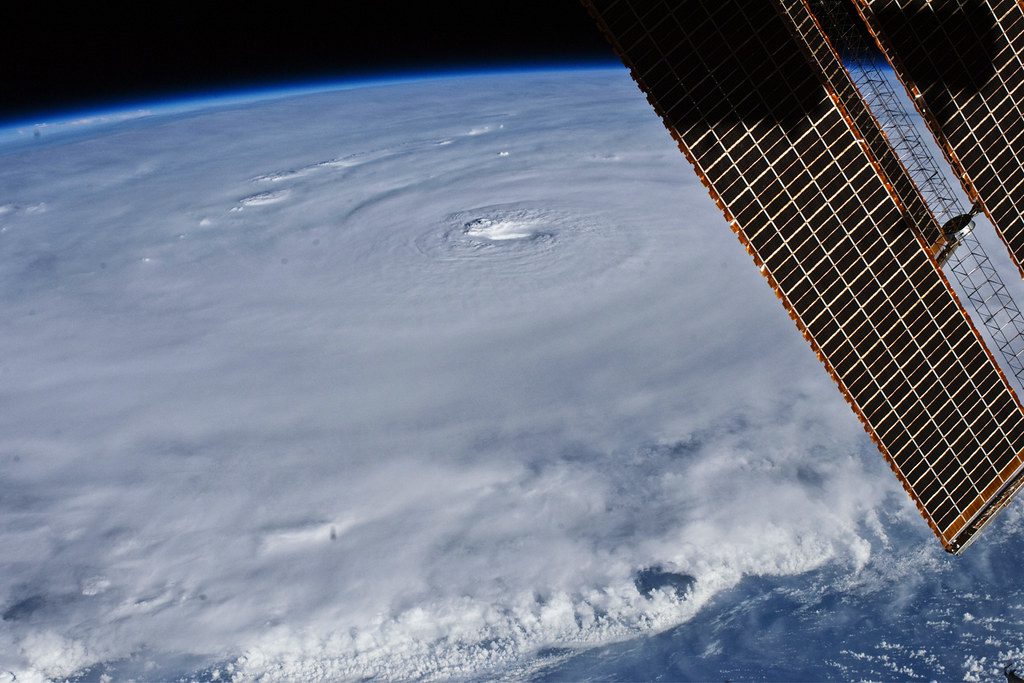 Photo: Creative Commons, "NASAHurricaneEarl" by gd4jc is licensed under CC BY-NC-SA 2.0 
"Here all roads now lead directly to the ocean." This is not a local catch-phrase to attract tourists, but a firsthand account, by Ginger Moxey, my Bahamian friend and Sister Cities International colleague, of the damage wreaked by Hurricane Dorian in the Bahamas over the past week. With every extreme weather event, from forest fires to floods, from hurricanes to heat waves, we are reminded of the growing impact the weather and climate change are having on day-to-day life. Rising and warming seas lead to stronger storms and heavier flooding, which disproportionately affect the world's coastal regions.
Disastrous Effects: These Events Will Continue to Happen and Intensify To be frank, the frequency of natural disasters has steadily increased since the beginning of the 20th century, and will continue to do so if climate change is not addressed. These natural disasters not only disrupt infrastructure and cause harm and insecurity to people, they exacerbate deep-rooted social issues such as poverty, inequity, homelessness, lack of healthcare access, and human trafficking.
What Can We Do? All these issues are felt at the individual and community level. They cause widespread disruption, displacement, and can also be difficult to tackle, given limited resources. However, by emphasizing a community-based approach to resilience, disaster preparedness and recovery, ordinary citizens and communities can begin to create impactful change that helps those most in need.
1.   Develop Response-Oriented Infrastructure and Social Capital Sister Cities International (SCI) is the oldest citizen diplomacy network in the country, with close to 500 community and city members. We encourage and foster community response in several ways. Primarily, SCI provides infrastructure and trusted connections that are sustained over time. These connections can be beneficial for efficient and effective disaster mitigation and response. Personal relationships formed through the Sister Cities network provide points of contact and create a collaborative base among individuals, communities, and public and private sector entities.
We dovetail such relationship with evidence and data. For example, SCI partner, Adec Innovations tracks data and uses it to plan community responses. With Hurricane Dorian, the company is providing national environmental data around contaminated sites to understand threats: with 13,500 contaminated sites, Florida tops the list; South Carolina has nearly 3,000 of these and Georgia more than 1,500. Such programs and relationships give responders a variety of avenues and connections to leverage when picking up the pieces after a disaster.
2.   Harness Disaster Diplomacy Tailoring disaster response to community needs is also more effective at alleviating suffering and repairing communities. Strengthening this approach is the hallmark of "Disaster Diplomacy" which posits that the shared trauma of a disaster brings communities closer together. By harnessing the power of communities, not only can we create an effective response in the aftermath of a disaster, but we can go on to build stronger and more resilient communities for the future. At our annual conference in Houston this year, SCI partner Airbnb described its open homes program as a way of bringing people together to support the trust and community efforts that citizen groups like SCI develop.
3.   Tackle Root Causes that Lead to Disproportionate Impacts Not only does SCI help create the infrastructure for disaster response, we also tackle several deep-rooted problems that are exacerbated by natural disasters. Resilience is an emerging field which can give communities some means to mitigate the effects of disasters before and after they strike. We collaborate with and learn from partners such as ADEC Innovations, Airbnb, Port San Antonio and local programs such as the one in Norfolk, Virginia to imbue our initiatives with resilient approaches and understanding. Over the past year and at the SCI 2019 Annual Conference, we have paid close attention to emerging issues such as human trafficking and trauma in disasters, and have shared information on best practices with our members. The SCI network includes current and former service members, whose connections and expertise can be leveraged when responding to disasters. Our arts programs help bring art therapy to those who have experienced trauma. We also provide young artists with a platform to tell their stories and share their experiences around the world.
Sister Cities, Disasters and Needs-based Solutions Is Hurricane Dorian just another unavoidable disaster? Climate change is a daunting challenge, with its host of natural and human impacts. Our response cannot be half-hearted or one-dimensional; the lives of our families, neighbors, and friends are at risk. To tackle the problems facing us, we need a holistic, community-specific approach.
The SCI network is primed to tackle such issues. We operate at the intersection of individuals, communities, public sector, and private sector entities. We bring these stakeholders together to develop needs-based solutions with an eye towards preparing all communities for the future. It is only through collaboration and inclusive programming that we can prepare for and face the next disaster, if not decrease the likelihood of its happening altogether.
Click here to learn more about our work, get involved, and to support SCI. 
Author: Roger-Mark De Souza, President and CEO at Sister Cities International
*The opinions expressed here are my own. Thank you to Dean Suozzi-Auberry for his research assistance with this article.
---