Tackling the Heroin Crisis: Sister Cities Seattle and Bergen Working Together
When you think of Bergen, Norway; the first thing that comes to mind is its picturesque harbor with its quaint wooden houses. The UNESCO World Heritage Site is one of the most photographed scenes in the world. It is no wonder that the postcard-perfect city set on a fjord against the backdrop of seven majestic mountains, served as the inspiration for many of the settings in Disney's Frozen.
A native Seattleite, I have often made the observation that my own city is like "Bergen in larger format, but more modern." Norway's second city, like its sister city Seattle, is also a bustling center of business, industry, education, culture, and technology — a modern society through-and-through. But life in Bergen is not a fairytale: like other modern urban areas (including Seattle), it grapples with public health concerns related to heroin addiction.
Sister Cities International offers a unique network for solving problems and, as a citizen, I set out to learn more about the programs and services offered in Bergen for heroin addicts. Through sister city connections at City Hall, I was able to visit a safe injection site and a day rehabilitation center to see how Bergen supports citizens who are dealing with addiction. In 2014, the municipality made the decision to shut down Nygårdspark, a large greenbelt at the center of the drug scene, and increase initiatives for housing and addiction care.
Bergen has made significant progress since then: two day rehabilitation centers provide care and services; there is a safe injection site in operation; a full-scale housing program is in place for addicts; and first responders are on the street and prepared to administer antidotes and save lives. Another initiative is in place to eradicate Hepatitis-C.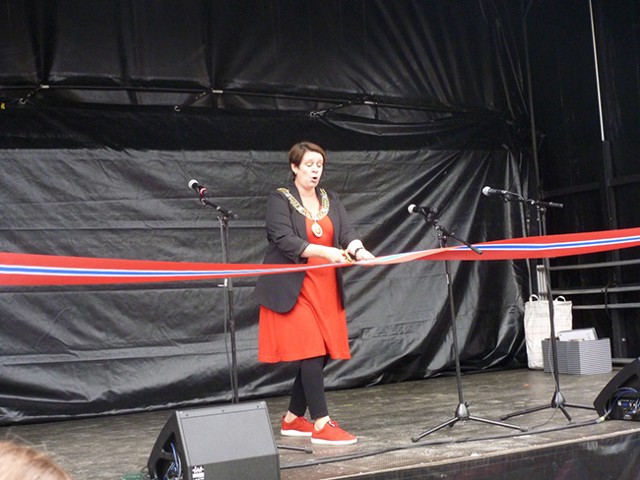 Last fall, I had the pleasure of being present at the ceremony where the park was reopened. It was a happy day for the entire community. In the end, their streets were safer and help had come to some of their fellow citizens who needed it most.
My meetings with officials and clients at these facilities in Norway made a strong impression on me, and I knew I had to share what I learned back home. On the afternoon of May 3, leading experts from Seattle and Bergen will come together for a symposium at the Seattle Municipal Tower to share their experiences and best practices on dealing with heroin addiction as a public health issue. Seattle's Deputy Mayor Shefali Ranganathan will welcome Lord Mayor Marte Mjøs Persen of Bergen who has been one of her city's strongest advocates for progress and reform in addiction treatment. They will be joined by local public health authorities and officials from Seattle, Bergen, Vancouver, B.C.. and interested members from Seattle Sister Cities, as we work together across borders to tackle the heroin crisis.
For more information, please email [email protected] or call (206) 854–7693.
Further reading: New beginnings: A city park reopens and help comes to Bergen's heroin addicts
---