Seattle Celebrates Friendship with Sister City Bergen with Gala Concert Extravaganza
Submitted by Lori Ann Reinhall
President, Seattle-Bergen Sister City Association
June 15, 2018, marked the 175th birthday of Bergen's most famous composer, Edvard Hagerup Grieg. It was a day of celebration in Norway with a 30-hour marathon concert with many of the country's leading artists at Grieg's home Troldhaugen in Bergen.
The concert was broadcasted throughout all of Norway and streamed online all over the world. In Seattle, the Seattle-Bergen Sister City Association (SBSCA) was listening in preparation for their own celebration. The following evening, they gathered at Ballard First Lutheran Church. Guest pianist Knut Erik Jensen of Trondheim, Norway joined them for a gala concert to wish Edvard Grieg "Happy Birthday" and to honor their friendship with their sister city.
Knut Erik Jensen, a Norwegian concert pianist and recognized expert in the Grieg repertoire, is no stranger to Seattle audiences. Over the course of three years, he will commute between Norway and the U.S. to perform the complete songs of Edvard Grieg throughout the Pacific Northwest. He will travel under the sponsorship of the Northwest Edvard Grieg Society, founded by Laura Loge. Loge is a Seattle resident and active member of the sister city association. The two groups work closely together, and a birthday collaboration seemed natural for all involved.
Grieg's impact on Norwegian classical music cannot be underestimated. His great musical legacy was underlined in the program with the inclusion of another Bergen-born composer, Geirr Tveitt. Jensen and Loge welcomed delighted concert-goers with his most famous song Welcome with Honor. Jensen then proceeded to play solo piano pieces of both Tveitt and Grieg with masterful force. It was a memorable performance in a church that was fittingly built by Norwegian immigrants.
However it was Jensen and Loge's rendition of the Haugtussa song cycle that left the audience spellbound. SBSCA president, host, and emcee Lori Ann Reinhall set the scene by telling the love story the "mountain maid," a tale rooted in Norwegian folklore and brought to life by the Neoromantic poet Arne Garborg. Laura Loge appeared onstage in Norwegian folk costume with a floral crown in her hair as she and Jensen told the story with great nuance and emotion accompanied by music.
The second half of the concert brought another highlight with the appearance of young local violin virtuoso Allion Salvador, a veteran to the Seattle Grieg galas. Once again, Salvador bedazzled his listeners with Grieg's First Violin Sonata. Jensen backed him on the piano with power and sensitivity in what could be described as a tour-de-force performance by the dynamic duo. This will not be the last that the sister city group will hear from Salvador, as he will be on his way to Norway this fall to tour with an ensemble of musicians from both Seattle and Bergen who collaborated on the gala last year.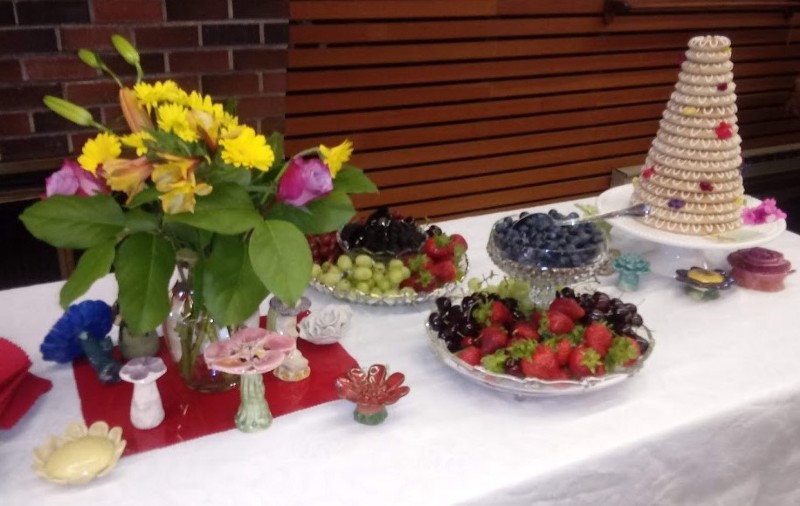 Grieg's birthday party would not be complete without everyone joining in on Happy Birthday together, before enjoying coffee, a slice of birthday cake, fresh fruit and piece of a genuine Norwegain kransekake ring cake.
On both sides of the Atlantic, the Seattle-Bergen Sister Association is highly regarded for its musical programming, and the Grieg Gala Concert Extravaganza served as yet another testimony to the claim that they are the "most musical sister city in the world." With world-class performances, their programs have serve to both enrich the Seattle musical landscape and deepen cross-cultural exchange between the two sister cities.
Photos courtesy of the Seattle-Bergen Sister City Association
Contact Information:
Lori Ann Reinhall
---